SHAOLIN STANCE TRAINING IN SORIA 2005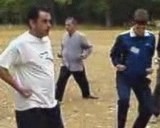 Shaolin Stance Training in Soria 2004
One main reason why the beginners at the course could achieve good and fast results was the emphasis placed on stance training, footwork and accurate forms. This video clip shows the participants at stance training, or "zhan zhuang". The secret of stance training is relaxation. After standing at the stances, the participants go into chi flow and Standing Meditation.
The size of the video clip is 4.52 MB.
Click here to download.
LINKS
Courses and Classes