VIDEOS ON TESTING THE SHAOLIN WAHNAM SPARRING METHODOLGY ON BEGINNERS -- OVERVIEW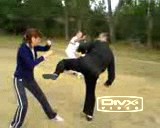 "/>
Kungfu can certainly be used for combat, even for beginners!
To test whether the Shaolin Wahnam Sparring Methodology is effective for beginners, Grandmaster Wong used it on a regional Shaolin Kungfu course held on 18th, 19th and 20th August 2005 in Soria, Spain
Except for two young men, Lucas and Adofo, who had practiced a few years of Karate, all the other participants had no previous martial art experience. However, two of the participants, Carlos and Rosa, attended a three-day regional Taijiquan course just before the Shaolin Kungfu course.
The results of the course were inspiring. Not only the beginner students could learn three kungfu sets in three days, they could spar reasonably well using typical kungfu techniques and skills.
Please click on the topics below to view the videos.
LINKS
Regional Shaolin Kungfu Course, Soria 2005
Courses and Classes