FUN AND LAUGHTER IN FREE SPARRING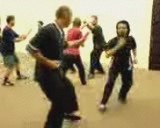 Not only there is no injury sustained in free sparring in Shaolin Wahnam, there is usually much fun and laughter. This video clip shows a variety of free sparring during the Advanced Combined Shaolin Taijiquan Course in Malaysia from 29th July to 7th August 2005 where only Sifu Wong's top disciples were invited to attend. Amongst those shown in this video clip are Sifu Kai Uwe and Dr Damian, Sifu Michael Durkin and Sifu Anton Skafar, Sifu Riccardo Puleo and Sifu Attilio Podesta, and Eugene and Dr Riccardo Salvatore. In this free sparring practice, kicks are emphasized.
The size of the video clip is 2.62 MB.
Click here to download.
LINKS
Courses and Classes