COUNTERS AGAINST SHOOTS (PART 1)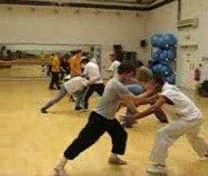 Counters against Shoots (Part 1)
Students practice counters against "shoots" where the opponent has just commenced his attack and has not succeed.in grasping the legs. One can cause serious injury to the opponent by striking his head. A more compassionate yet effective counter is to stop him by intercepting the opponent's forward movement at his shoulder or collar bone. Students need to be careful in their training to avoid injuring their training partner while countering.
The size of the video clip is 896 KB.
Click here to download.
LINKS
Courses and Classes