COUNTERS AGAINST SHOOTS (PART 2)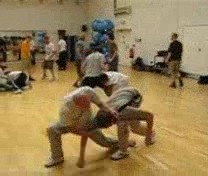 Counters against Shoots (Part 2)
What would you do if the opponent succeeds in grasping your legs and is about to take you down. A good counter is to sink deep into your low Horse-Riding Stance and press the opponent onto the ground, using the pattern "Black Bear Sinks Hips". Another effective counter is to squat down to a Half-Kneel Stance using the pattern "Fierce Tiger Crouches on Ground".
The size of the video clip is 3.33 MB.
Click here to download.
LINKS
Courses and Classes