PUAHING HANDS — SIZE IS NOT A CRUCIAL FACTOR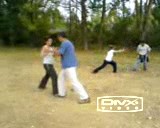 Pushing Hands — Size is Not a Crucial Factor
"Pushing Hands" is an important aspect of Taijiquan training where valuable combative skills are developed. Among the important combative skills learnt are being relaxed while pushing hands, sensing the opponent's intentions, and following the opponent's movements.
It is interesting to note in this video clip that smaller sized women were pushing hefty men away. This was possible if the women knew how to apply the Taijiquan principle of "pushing from the back leg, controlled by the waist, and finishing at the hands"
The size of the video clip is 2.05 MB.
Click here to download.
---
You can view all the video by clicking the picture or caption below

Taijiquan Pushing Hands -- Size is Not a Crucial Factor from Wong Kiew Kit on Vimeo.
---
You can view all the videos of the course here
LINKS
Overview
Courses and Classes