PUSHING HANDS — FUN AND LAUGHTER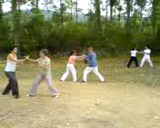 Pushing Hands — Fun and Laughterr
Besides developing valuable skills, "Pushing Hands" can be full of fun and laughter, as can be seen in this video clip. Here the students learn that with proper skills and footwork, they can neutralize the powerful push of opponents bigger and stronger than them. When one observes closely, he may also notice that there is a marked improvement of the students' skills in this video clip over earlier video clips.
The size of the video clip is 4.90 MB.
Click here to download.
---
You can view all the video by clicking the picture or caption below

Taijiquan Pushing Hands -- Fun and Laughter from Wong Kiew Kit on Vimeo.
---
You can view all the videos of the course here
LINKS
Overview
Courses and Classes