PRACTICING KICKS AGAINST AN IMAGINARY OPPONENT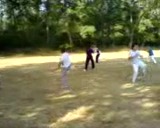 Practicing Kicks Against an Imaginary Opponent
Kicks and their counters form an important part of Taijiquan training. This video clip shows students practicing kicks against imaginary opponents. As there are some innate weaknesses in kicks, one must practice kicking to be proficient before using them. He must also understand how an opponent is likely to respond to his kicks.
The size of the video clip is 4.70 MB.
Click here to download.
---
You can view all the video by clicking the picture or caption below

Practicing Kicks against an Imaginary Opponent in Taijiquan from Wong Kiew Kit on Vimeo.
---
You can view all the videos of the course here
LINKS
Overview
Courses and Classes