COUNTERS AGAINST HIP THROWS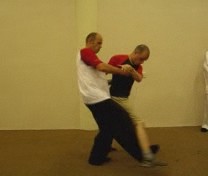 This video clip shows Sifu Kai countering Sifu Mark's hip throws. As Sifu Mark lifts his leg to sweep backward to effect his throw, Sifu Kai kicks forward at the opponent's leg and fells him backward. In Wahnam Taijiquan this counter may be implemented with the pattern "White Crane Flaps Wings" or the pattern "Carry Tiger Back to Mountain". Notice again that laughter is a common feature in Shaolin Wahnam training, even in combat application.
The size of the video clip is 2.18 MB.
Click here to download.
LINKS
Courses and Classes