COUNTERS AGAINST LEG SWEEPS (2)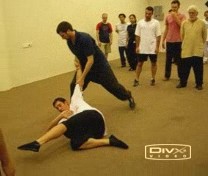 Here, Sifu Jeffrey Segal of Australia demonstrates another counter against a leg sweep attempted by Sifu Robin Gamble of England. Sifu Segal uses the pattern known in both Wahnam Taijiquan and Shaolin Kungfu as "Fisherman Casts Net". A good stance is necessary for executing this pattern. The felling techniques shown by Sifu Jeffrey in this video clip are backward throws.
The size of the video clip is 2.59 MB.
Click here to download.
LINKS
Courses and Classes