COUNTERS AGAINST BACKWARD THROWS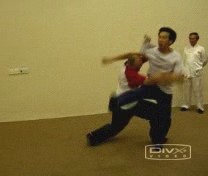 Sifu Kai shows how to counter a backward throw from Michael Chow by applying the Shaolin pattern "Spiritual Dragon Crouches on Ground". In Wahnam Taijiquan the counter pattern is "Spiritual Monkey Presents Fruit".
The size of the video clip is 3.19 MB.
Click here to download.
LINKS
Courses and Classes