SIDEWAY THROWS WITH LEG SWEEP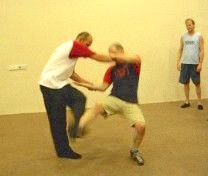 Sifu Kai throws Sifu Mark sideway by sweeping his leg as he attacks. In Shaolin Kungfu this sweeping attack to fell an opponent may be effected by the pattern "Drunken Eight Immortals", and in Taijiquan by a modification of the pattern "White Crane Flaps Wings".
The size of the video clip is 1.15 MB.
Click here to download.
LINKS
Courses and Classes