SHAOLIN PLUM FLOWER SINGLE KNIFE — OLD VIDEO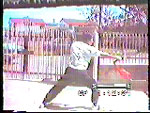 The "single knife" is often called "broadsword" in most other kungfu literature written in English. We prefer to use the term "knife" to maintain the Chinese flavor.
In Chinese, the term "sword" refers to a light, straight, two-edge weapon, whereas a "knife" is heavier, curve and single-edge. The techniques and skills in using a kungfu knife are different from those of a sword.
Selection from this "Shaolin Plum Flow Single Knife", was performed by Goh Kok Hin about 20 years ago
The size of the video clip is 1977 KB.
Click here to download.
---
You can also view the video by clicking on the picture or the caption below

Plum Flower Sabre 1980s from Wong Kiew Kit on Vimeo.
LINKS
Courses and Classes