COUNTERS AGAINST GRIPS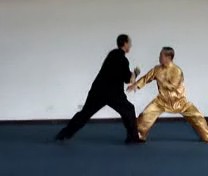 Counters against Grips
How would you neutralize your opponent gripping your two wrists? "Green Dragon Shoots Pearl" is an effective counter. In the impromptu video clip, Sifu Rama spontaneously responds to Sifu Wong's strike, and counter-attacks, to which Sifu Wong reacted accordingly. In another example, Sifu Rama grips Sifu Wong from behind. Sifu Wong again uses "Green Dragon Shoots Pearl" to counter.
---
Please chick the picture or the caption below to view the video

A Pattern for All Occasions -- Part 8 from Wong Kiew Kit on Vimeo.
LINKS
Overview
Courses and Classes