COUNTERING STRIKES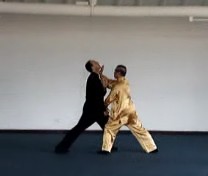 Countering Strikes
Sifu Wong explains how to apply "Green Dragon Shoots Pearl" to counter Sifu Rama's strike. This counter exemplifies two important Taijiquan principles — "Using the opponent's momentum against himself" and "starting later arriving earlier".
---
Please chick the picture or the caption below to view the video

A Pattern for All Occasions -- Part 3 from Wong Kiew Kit on Vimeo.
LINKS
Overview
Courses and Classes