IMPORTANCE OF COVERAGE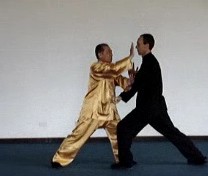 Importance of Coverage
Sifu Wong explains that it is essential to "cover" or "close" the opponent when attacking, otherwise he may counter-strike and hurt you. Here Sifu Wong uses one hand to "cover" Sifu Rama's two hands, while attacking with the other hand. This is the principle of "one against two".
---
Please chick the picture or the caption below to view the video

A Pattern for All Occasions -- Part 4 from Wong Kiew Kit on Vimeo.
LINKS
Overview
Courses and Classes