"FA-JING" OR "YIELDING" IN TAIJIQUAN COMBAT (1)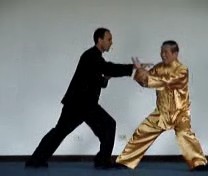 "Hua-Jing" or "Yielding" in Taijiquan Combat (1)
To apply a technique successfully in combat, one must have the necessary skills. Skills in fact are more important than techniques. One essential skill in applying Taijiquan for combat is "hua-jing", or "neutralizing an opponent's force", but is commonly known as "yielding". First you yield to lead the opponent come in. Then using his momentum you deflect and turn it against himself. In many ways, "hua-jing" or yielding is the essence in Taijiquan combat.
---
Please chick the picture or the caption below to view the video

A Pattern for All Occasions -- Part 1 from Wong Kiew Kit on Vimeo.
LINKS
Overview
Courses and Classes