"FA-JING" OR "YIELDING" IN TAIJIQUAN COMBAT (2)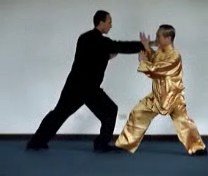 "Hua-Jing" or "Yielding" in Taijiquan Combat (2)
Besides having the correct hand movement in "hua-jing" or yielding, the body movement and the leg movement must also be correct. This is a manifestation of the three external harmonies of hands, body and legs. Sifu Wong is seen smiling broadly; he has been very pleased with the progress of the class.
---
Please chick the picture or the caption below to view the video

A Pattern for All Occasions -- Part 2 from Wong Kiew Kit on Vimeo.
LINKS
Overview
Courses and Classes