COMBAT SEQUENCE TRAINING — SEQUENCES 5 TO 8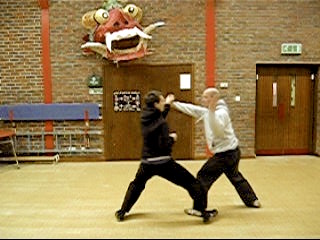 It is sad that most kungfu practitioners today cannot apply their kungfu forms for sparring or real fighting. Of course kungfu can be used for fighting, although even some kungfu masters today, ironically, think that it cannot be. What is the secret to kungfu sparring or fighting? Different schools would have different sparring methodologies. This video clip shows Mark and Simon, both assistant instructors of Shaolin Wahnam England, practicing the fourth step, "Continuation", of this sparring methodology, using Combat Sequences 5 to 8. The movements here are pre-arranged.
---
Please click the picture below or click the caption to view the video

Combat Sequence Training -- Sequences 5 to 8 from Wong Kiew Kit on Vimeo.
LINKS
Courses and Classes