AGE, SEX AND SIZE ARE NOT DECISIVE FACTORS IN KUNGFU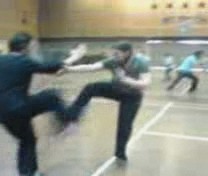 Age, Sex and Size are Not Decisive Factors in Kungfu
Unlike in other martial arts, in kungfu, age, sex and size are not decisive factors in combat. In other words, an elderly, tiny woman may be a better fighter than a muscular young man.
Nicky, who has no disadvantage being in the "weaker" sex and who specializes in the Dragon Form, and Jamie who specializes in the Shaolin Five Animals, shows some effective uses of their legs to counter kicks, besides executing some deadly kicks themselves.
On the other hand, Joshua who specializes in the Five Animals too, and Simon who specializes in the Dragon-Tiger Set, demonstrate some fast hand techniques, though they may not appear flashy and speedy.
---
Please click the picture or the caption below to view the video

Age, Sex and Size are Not Decisive Factors in Kungfu from Wong Kiew Kit on Vimeo.
LINKS
Overview
Courses and Classes