PERFORMING THE FLOWING WATER STAFF PATTERN BY PATTERN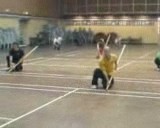 Performing the Flowing Water Set Pattern by Pattern
Here the Flowing Water Staff is performed pattern by pattern. Grandmaster Wong calls the pattern and the participants perform it. This is the first part of the set. The second part is found in the video clip below.
---
Please click the picture or the caption below to view the video

Performing Flowing Water Staff Pattern by Pattern from Wong Kiew Kit on Vimeo.
LINKS
Overview
Courses and Classes