PERFORMING THE STAFF SET IN CHI FLOW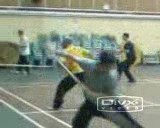 Performing the Staff Set in Chi Flow
This video clip is an immediate follow-up of the one above. The participants practice their staff set over and over. Their movements are smooth, fast and powerful, and they are not tired or panting for breath. One important reason for this attainment is that they perform the staff set in chi flow. Some continue their spontaneous chi flow after the set. One participant, Hendrick of Shaolin Wahnam Germany, goes onto the ground in his spontaneous chi movements.
---
Please click the picture or the caption below to view the video

Performing Staff Set in Chi Flow from Wong Kiew Kit on Vimeo.
LINKS
Overview
Courses and Classes