BASIC COUNTER AGAINST THE MIDDLE THRUST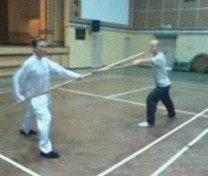 Basic Counters against the Middle Thrust
Many of the staff techniques are derived from the spear. The most representative as well as deadly spear technique is the spear thrust, expressed here in the staff technique as the pattern "Yellow Dragon Emerges from Cave". In friendly sparring, the staff stops a few inches in front of the chest, but in a real fight it may pierce through. A basic counter against the thrust is the pattern shown here called "General Waves Flag".
---
Please click the picture or the caption below to view the video

Basic Counter against Middle Thrust from Wong Kiew Kit on Vimeo.
LINKS
Overview
Courses and Classes