SPACING, TIMING AND FOOTWORK IN COMBAT APPLICATION OF THE STAFF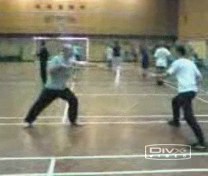 Spacing, Timing and Footwork in Combat Application of the Staff
Course participants practice the two basic staff techniques — a middle thrust using "Yellow Dragon Emerges from Cave" and a "covering" technique using "General Waves Flag". More important than the techniques are the skills. Three fundamental skills are emphasized here — spacing, timing and footwork.
---
Please click the picture or the caption below to view the video

Spacing, Timing and Footwork in Combat Application of Staff from Wong Kiew Kit on Vimeo.
LINKS
Overview
Courses and Classes