COVERING AND FLICKING AGAINST THE THRUST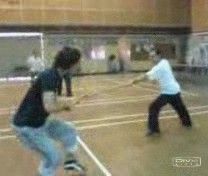 Covering and Flicking against the Thrust
Course participants practice the "flick" technique against the staff thrust. The patterns used are "Shark-Monk Flicks Spear" and "Yellow Dragon Emerges from Cave". Hence, against the middle thrust, there are two fundamental counters — the "cover" and the "flick".
---
Please click the picture or the caption below to view the video

Covering and Flicking against Thrust from Wong Kiew Kit on Vimeo.
LINKS
Overview
Courses and Classes