SOUND EAST STRIKE WEST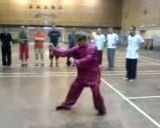 Sound East Strike West
Amongst kungfu patterns, "Sun Moon Manifest Glory" comes closest to the stance Boxers adopt when sparring. Innes begins the set with Boxing moves, which are stylized into kungfu forms. Sifu Markus provides the counters against these movements, using the tactic of "Sound East Strike West", and the technique "Low Stance Arrow Punch" with the pattern "Precious Duck Swim through Lotus".
---
Please click the picture or the caption below to view the video

Sound East Strike West in Shaolin Kungfu from Wong Kiew Kit on Vimeo.
LINKS
Overview
Courses and Classes