CHANGING FROM PRECIOUS DUCK TO WHITE HORSE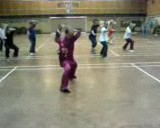 Changing from Precious Duck to White Horse
This video clip shows a review of the first defence sequence and the second attack and defence sequences. After some explanation from Sifu Wong, it was decided to change "Precious Duck Swims through Lotus" in the first defence sequence to "White Horse Turns Head" as shown in this video clip. Amongst other advantages, "White Horse" provides better control of the Boxer's movement as well as easier application of internal force.
---
Please click the picture or the caption below to view the video

Changing from Precious Duck to White Horse from Wong Kiew Kit on Vimeo.
LINKS
Overview
Courses and Classes