WHIRLWIND KICK AND GREEN DRAGON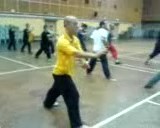 Whirlwind Kick and Green Dragon
The kungfu part of Sequence 4 is shown in this video clip. The kungfu exponent brushes aside the Boxer's right and left hooks, close in on the Boxer and counters with a whirlwind kick. As the Boxer moves to his right side to execute another hook, the kungfu exponent "tames" the attack and counters with a palm strike, using the pattern Green Dragon Rushes at Face".
---
Please click the picture or the caption below to view the video

Whirlwind Kick and Green Dragon from Wong Kiew Kit on Vimeo.
LINKS
Overview
Courses and Classes