THE FIRST FIVE ATTACK AND DEFENCE SEQUENCES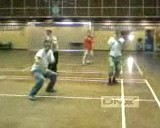 The First Five Attack and Defence Sequences
The participants practice Sequences 1 to 5. They are 1. White Horse Turns Head, 2. Golden Dragon Plays with Water, 3. Double Bows Tames Tiger, 4. Green Dragon Rushes at Face, and 5. White Horse Presents Hoof".
---
Please click the picture or the caption below to view the video

The First Attack and Defence Sequences from Wong Kiew Kit on Vimeo.
LINKS
Overview
Courses and Classes