KEEPING A BOXER AWAY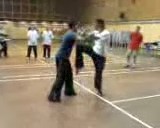 Keeping a Boxer Away
Jonny and Davie, both from Shaolin Wahnam Scotland, demonstrate how to keep a Boxer at bay while striking him. A good stance and appropriate body-work are necessary. Sifu Jordan from England and Chris from Scotland show how to counter a Boxer 's hug. Unfortunately, due to some technical faults, the laughter from the other participants and Sifu Wong's comments are not reproduced in the video clip.
---
Please click the picture or the caption below to view the video

Keeping a Boxer Away from Wong Kiew Kit on Vimeo.
LINKS
Overview
Courses and Classes