ATTAIN IN THREE HOURS WHAT MANY MAY NEED THREE YEARS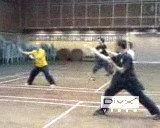 Attain in 3 Hours what many may need 3 Years
These movements may not be meaningful to other martial artists not familiar with their combat functions, but to the initiated these movements are effective counters against Boxers. We can also anticipate that some critics, many of whom may not even have practiced kungfu or Boxing, may criticize the hesitancy or uncertainty of some participants shown in this video clip. That is their business. This video clip shows without any editing a part of our training process where in about 3 hours these participants successfully learn and more significantly are able to perform effectively counters against Boxers what many martial artists will be happy to learn in 3 years.
---
Please click the picture or the caption below to view the video

Ataining in 3 Hours what May Need 3 Years from Wong Kiew Kit on Vimeo.
LINKS
Overview
Courses and Classes