SIDE KICK AGAINST A BOXER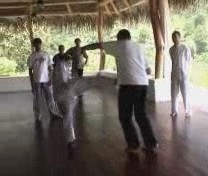 ---
An excellent counter against a Boxer, almost irrespective of how he attacks, is a side kick. As the Boxer launches forward to execute his jabs or any attack, lean back sideway and execute a side kick at his ribs, abdomen or any exposed part.
A Boxer is not trained how to defend against kicks (as kicks are not permitted in Boxing rules), but in case he grabs your kicking leg, throw your body forward and strike his head or shoulder with "Immortal Pounds Mortar".
---
Please click the picture below or click the caption to view the video

Side Kick against a Boxer from Wong Kiew Kit on Vimeo.
LINKS
Overview
Courses and Classes