CHI FLOW AFTER COMBAT APPLICATION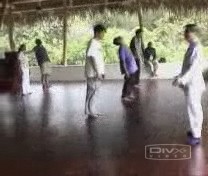 ---
Besides breath control, another crucial factor that enables Shaolin Wahnam members to spar for hours without feeling out of breath is their ability to conclude their training, or a part of the training, with chi flow. Such chi flow loosens their muscles, clears away toxic waste, restore their normal heart beats, calms their mind, and replenished their energy spent. This impromptu video clip taken at the five-day regional Taijiquan course at the Shaolin Wahnam Centre in Costa Rica shows course participants go into a chi flow immediately after sparring practice where they employ side-kicks against Boxers' attacks.
---
Please click the picture below or click the caption to view the video

Chi Flow after Combat Application from Wong Kiew Kit on Vimeo.
LINKS
Overview
Courses and Classes