UNDERSTANDING THE COMBAT BEHAVIOUR OF A MUAY THAI FIGHTER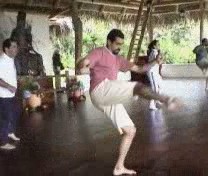 ---
The great strategist of ancient China, Sun Tzu, advises that if you know yourself and know your opponent, you can win a hundred victories over a hundred battles. Hence, before we practice combat application against Muay Thai, or Siamese Boxing, we need to understand the typical combat behaviour a Muay Thai fighter.
The following are important points. A Muay Thai fighter is extremely fast, powerful and tricky, he almost always attacks continuously mixing feign and real moves, and he frequently uses elbow strikes, knee jabs and sweeping kicks. Unlike a Boxer who usually poises with one foot in front of the other, a Muay Thai fighter usually faces his opponent face-on, giving his opponent little indication which leg he will initiate his kicks.
---
Please click the picture below or click the caption to view the video

Understanding the Combat Behaviour of a Muay Thai Fighter from Wong Kiew Kit on Vimeo.
LINKS
Overview
Courses and Classes