AVOIDING THE OPPONENT'S STRENGTH AND ATTACKING HIS WEAKNESS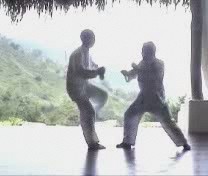 ---
An important principle in combat is to avoid the opponent's strength and attack his weakness. After having some knowledge of the typical combat behavoiur of a Muay Thai fighter, we then examine what strong points in Taijiquan we can use against Muay Thai weaknesses.
First Sifu Wong shows what a combatant should not do when facing the attacks of a Muay Thai fighter because doing so would enable the opponent to maximize his strong points.
Then Sifu Wong shows how one can use Taijiquan skills and techniques to attack Muay Thai weaknesses, which is using the versatility of the Bow-Arrow Stance and the Taijiquan pattern "Green Dragon Shoots Pearl" to avoid Muay Thai kicks then strike the soft spot of the attacker's leg.
---
Please click the picture below or click the caption to view the video

Avoiding Opponent's Strength and Attacking his Weakness from Wong Kiew Kit on Vimeo.
LINKS
Overview
Courses and Classes