APPLYING TAIJIQUAN TECHNIQUES AGAINST MUAY THAI ATTACKS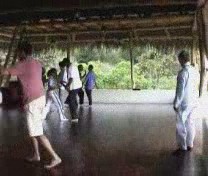 ---
This impromptu video clip shows participants at the regional Taijiquan course in Costa Rica in February 2005 applying Taijiquan techniques against Muay Thai attacks. Understandably their movements are not smooth yet. Not only they do not have experience in Muay Thai, many of them are new to Taijiquan.
But if they practice these techniques for a year, they would be more combat efficient against Muay Thai fighters than other martial artists who free spar haphazardly for three years or Taiji practitioners who merely practice external forms for twenty years. More importantly, they do not hurt themselves in the sparring, but find the training full of fun.
---
Please click the picture below or click the caption to view the video

Apolying Taijiquan Techniques against Muay Thai Attacks from Wong Kiew Kit on Vimeo.
LINKS
Overview
Courses and Classes