BASIC TAIJIQUAN TRAINING — PUSHING HANDS: MOBILE MODE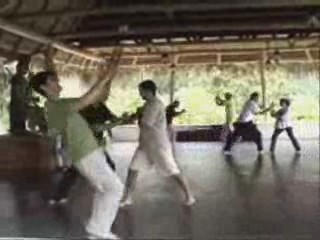 Basic Taijiquan Training — Pushing Hands: Mobile Mode
After acquiring basic combat skills in Stationary Pushing Hands, one progresses to Mobile Pushing Hands. The techniques in Pushing Hands are purposely reduced to the most simple so that students can focus on developing skills in applying the techniques.
There is actually only one technique for attack, namely "an" or push, and only one technique for defence, namely "peng" or ward off, with variations in footwork and attacking direction. Pay attention to the opening, the progress and the completion of each attack, namely closing the opponent so that he may not counter strike, pushing from the back foot, and maintaining good form when completing an attack.
The size of the video clip is 2.02 MB.
Click here to download.
---
Please click the picture below or click the caption to view the video

Basic Taijiquan Training -- Pushing Hands Mobile Mode from Wong Kiew Kit on Vimeo.
LINKS
Overview
Courses and Classes