WAHNAM TAIJIQUAN SET — FLOWING WATER FLOATING CLOUDS (PART 1)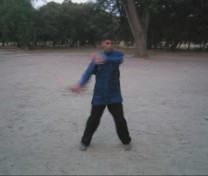 Wahnam Taijiquan Set — Flowing Water Floating Clouds (Part 1)
This is the fundamental set in Wahnam Taijiquan. It is called "Flowing Water Floating Clouds" after the pattern that expresses the most representative characteristic of Wahnam Taijiquan. This pattern is found at the beginning and towards the end of the set. We believe that in his extreme stillness while in a state of Tao, chi started to move inside the body of the First Patriarch of Taijiquan, the great Zhang San Feng, which manifested outwardly in movements poetically described as "flowing water floating clouds". These flowing movements were stylized into patterns forming Wudang Kungfu, which later developed into Taijiquan.
---
Please click the picture or the caption to view the video

Flowing Water Floating Clouds 01 from Wong Kiew Kit on Vimeo.
LINKS
Courses and Classes