BASIC TAIJIQUAN TRAINING — STANCE TRAINING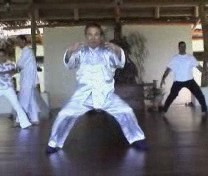 ---
"Zhang zhuang", or stance training, is the single most widely used method to develop internal force in kungfu, including Taijiquan. Course participants learn how to move from a Horse-Riding Stance to a Bow-Arrow Stance, paying careful attention to principles like "differentiating yin-yang" and "moving from the waist".
---
Please click the picture below or click the caption to view the video

Basic Taijiquan Training -- Stance Training from Wong Kiew Kit on Vimeo.
LINKS
Overview
Courses and Classes