BASIC TAIJIQUAN TRAINING — STRIKING HANDS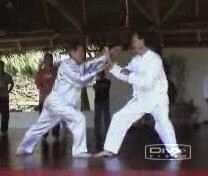 Basic Taijiquan Training — Striking Hands
While "Pushing Hands" focus on developing combat skills, "Strike Hands" introduces combat techniques. Attacks can come in countless ways, but past masters generalized them into four main categories, namely striking, kicking, felling and gripping.
A typical attacking technique from each category was practiced with its defence during the five-day regional Taijiquan class in Costa Rica. In this video clip, Sifu Wong.and Sifu Rama demonstrate simple strikes and their defences. The movements are not pre-arranged.
The size of the video clip is 544 KB.
Click here to download.
---
Please click the picture below or click the caption to view the video

Basic Taijiquan Training -- Striking Hands from Wong Kiew Kit on Vimeo.
LINKS
Overview
Courses and Classes