CHI FLOW AFTER CLOUD HANDS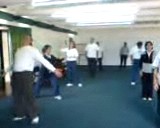 Chi Flow after Could Hands
This video clip shows participants enjoying a chi flow and then standing meditation after practicing "Cloud Hands". As both Taijiquan and Shaolin Kungfu are always practiced as chi kung in our school, Shaolin Wahnam, chi flow and meditation are integral parts of all kungfu training. In other words, Shaolin Wahnam students do not need to practice separate exercises to induce chi flow or enter into meditation; their kungfu training itself will enable them to do so.
---
Please click the picture below or click the caption to view the video

Chi Flow after Cloud Hands from Wong Kiew Kit on Vimeo.
LINKS
Overview
Courses and Classes