COUNTERS AGAINST THROWS (2)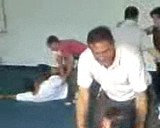 ---
Isn't it interesting that when an opponent attempts to throw you, at a time when he expects you to fall, he is fallen instead! It is even more interesting to see otherwise serious corporate presidents throwing one another and having fun.
---
Please click the picture below or click the caption to view the video

Counters against Throws in VIP Taijiquan (2) from Wong Kiew Kit on Vimeo.
LINKS
Overview
Courses and Classes