FA-JING OR EXPLODE FORCE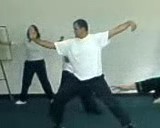 ---
While "fa-jing" or "Explode Force" is taught at an advanced level in many Taijiquan schools, in Wahnam Taijiquan it is taught at the beginning as it is regarded in our school as a basic exercise, meaning one that forms the foundation for future progress. "Single Whip" is an effective pattern to train "fa-jing". The exponent acting as a model for other participants to follow is Sifu Piti Parra Duque, a Shaolin Wahnam instructor of Colombia.
---
Please click the picture below or click the caption to view the video

Fa-Jing or Explode Force in VIP Taijiquan from Wong Kiew Kit on Vimeo.
LINKS
Overview
Courses and Classes