PUSHING HANDS (2)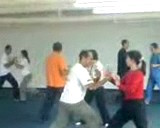 ---
Skills, such as correct spacing, timing and footwork, and not muscular strength are required for successful Pushing Hands. Notice that here dainty ladies can effectively push hefty men around.
---
Please click the picture below or click the caption to view the video

Pushing Hands in VIP Taijiquan (2) from Wong Kiew Kit on Vimeo.
LINKS
Overview
Courses and Classes