POINT AT STAR LOOK AT MOON OF A SABRE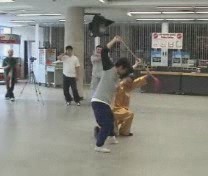 Application of Single Knife against Spear
Besides the "thrust", the next formidable technique of the spear is the "circle". Hence, any exponent who wishes to counter a spear-holding opponent must know how to counter these two deadly techniques. This video clip, taken randomly at the Toronto Special Shaolin Kungfu Course in 2003, first shows how Michael Chow uses the "circle" to neutralize Sifu Wong's grip on his spear and injure the opponent in return. Then Sifu Wong demonstrates how to neutralize the "circle" technique of the spear, and counter-attack with a reserved slash of the Single Knife, using the pattern "Point at Star and Admire Moon".
---
Please click the picture or the video below to view the video

Point at Star Look at Moon of Sabre from Wong Kiew Kit on Vimeo.
LINKS
Overview
Courses and Classes