WORKING OUT VARIOUS WAYS OF COMBAT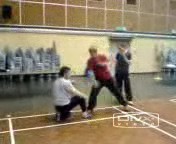 Working Out Various Ways of Combat
Participants from the Special Shaolin Kungfu Course of September 2005 work out various ways of combat based on certain themes. They choose their patterns from their specialized kungfu sets, which are "Tiger-Crane", "Dragon Form", "Dragon-Tiger", "Five Animals" and "Monkey".
---
Please click the picture or the caption below to view the video

Working out Various Ways of Combat from Wong Kiew Kit on Vimeo.
LINKS
Overview
Courses and Classes