COMBAT SEQUENCES FROM DRAGON FORM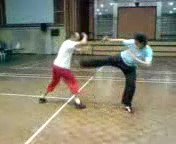 Combat Sequences from Dragon Form
Hubert chooses patterns from his specialized set, "Dragon Form", to compose combat sequences with certain themes. The sequences here are comprehensive, covering all the four categories of attacks, and they are developed from the 16 Basic Combat Sequences learnt at an earlier level. He then explains the reasons for his choice. Will you still be able to use these sequences if the opponent attacks in a different order. You will if you have learnt how to make adjustment taught in basic Combat Sequences.
---
Please click the picture or the caption below to view the video

Combat Sequences from Dragon Form from Wong Kiew Kit on Vimeo.
LINKS
Overview
Courses and Classes