COUNTERS AGAINST BOXERS AND MUAI THAI FIGHTERS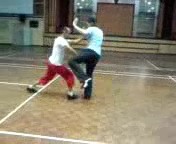 Counters against Boxers and Muai Thai Fighters
Hubert and Jonny, both specializing in the "Dragon Form Set", work out combat sequences against Boxers and Muai Thai fighters. Could they defeat Boxers and Muai Tahi fighters with these patterns? That depends on the combat skills of their opponents, but it is certain that if someone practices these patterns correctly for a year, he will be in a better position in fighting Boxers and Muai Thai fighters than another person of a similar level free-sparring randomly for five years.
---
Please click the picture or the caption below to view the video

Counters against Boxers and Muay Thai Fighters from Wong Kiew Kit on Vimeo.
LINKS
Overview
Courses and Classes