DRAGON-TIGER PATTERNS AGAINST KICK BOXERS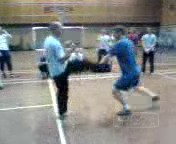 Dragon-Tiger Patterns against Kick-Boxers
Simon, Chris and Mark work out two combat sequences against typical Kick Boxing attacks. Much of Mark's effectiveness in his counters against a Kick-Boxer's attacks lies in his agile body-work due to his good stance. What would happen if an attacker uses other techniques not from Kick-Boxing, such as from Judo throws or Aikido holds? Then we would use other appropriate combat sequences.
---
Please click the picture or the caption below to view the video

Dragon-Tiger Patterns against Kick-Boxers from Wong Kiew Kit on Vimeo.
LINKS
Overview
Courses and Classes