DRAGON-TIGER PATTERS AGAINST HOLDS AND THROWS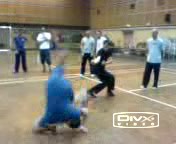 Dragon-Tiger Patterns against Holds and Throws
Here Simon, Chris and Mark work out patterns from their Dragon-Tiger Set against throws and holds, as well as upper cuts and side kicks. Are their movements too slow for real combat? This is a workout, not a real combat. They purposely slow down their movements both for themselves to check their forms and for others to see so as to comment. When the sequences have been studied, improved upon and accepted, the sequences can be performed fast and with flowing force.
---
Please click the picture or the caption below to view the video

Dragon-Tiger Patterns against Holds and Throws from Wong Kiew Kit on Vimeo.
LINKS
Overview
Courses and Classes